Ny Elinstallation emergency electrician Copenhagen, is not the typical electrician who just wants to make the days go by to take time off afterwards. We are a very committed electrician in Copenhagen who goes up in our work and what we perform of electrical services every single minute. As a local family-owned and operated electrician company in Copenhagen, Amager, Frederiksberg and Nørrebro etc. we strive for a positive customer experience, this because our customer is also our neighbors, family and friends.
Contact Ny Elinstallation emergency electrician Copenhagen for a first consultation with an authorized electrician and emergency electrician Copenhagen and join a journey where your needs are at the center, expect electrical installation of the highest quality as performed with the highest level of care, safety and efficiency. We treat our customers the way we would treat our own family, and our electrician Copenhagen workflow reflects that.
That is why we are a really good choice of electrician and electrician Copenhagen
– Our electrician in Copenhagen focuses on safety, efficiency and quality.
– Service agreements are individualized for each customer.
– We only buy materials of the highest quality from reliable suppliers.
Nicolai who started Norh and Ny Elinstallation emergency electrician Copenhagen has always had a strong service gene. His parents taught him the value of selfless services right from the beginning. He received good, honest lessons in life from all angles during his upbringing, through school and especially through scouts, it is this story that reflects our way of running our electrician company.
At Ny Elinstallation emergency electrician Copenhagen, we naturally want to help people. The value of helping others without expectation of anything in return is very important for our electricity business. Our electrician Copenhagen and the electrician's foundation are rooted in helping others. Our culture of making a good trip every day is reflected in the way we treat our customers and their homes. We therefore see ourselves as a really good choice of electrician for you who are looking for an electrician Copenhagen.
Electrical installations at our electrician Copenhagen
New Electrical Installation Electrician Copenhagen wants to be able to cover all needs of electrical service electrician Copenhagen. Here we explain a little briefly about our services that you can order from us. We are extra happy for our emergency electrician Copenhagen with a 24-hour guard who is open 24 hours a day.
Installation of new electricity
New electricity where we remove all old electrical installations and replace them with new cables and a new electrical panel where you can be sure that your new electricity covers your needs for many years to come.
What does new electricity cost?
New electricity costs approx. DKK 500 per square meter made by our electrician and electrician Copenhagen. You can get offers for new electricity via our website or you can contact Autoriseret Elektriker here. 
Installation of DUKA ventilation
DUKA ventilation is recommended for both basements and in some rooms where they are very humid, as well as in the bathroom. Let our authorized electrician Copenhagen install DUKA professionally, including diamond drilling.
How much does installation of DUKA ventilation cost?
With drilling and installation by our electrician and electrician Copenhagen after craftsman deduction price from DKK 7,900, installed in Copenhagen.
Suspension of lamp or several lamps
If you yourself have never hung a lamp, we recommend that you take the help of an electrician in Copenhagen, if you live in Copenhagen. It can be difficult to hang a lamp yourself, both due to the height and the mounting itself. Our electrician hangs your lamp at a fixed low price.
How much does it cost to hang a lamp at an electrician?
We invoice hourly rate and start-up fee for hanging lamp. price from. SEK 1,800 excluding VAT. to give a fixed price we need to know what kind of lamp we need to mount.
Replacement of old electrical panel with new one
If you have an old electrical panel as in the picture below, there is time to upgrade your electrical panel. Our electrician Copenhagen can upgrade your switchboard in one day.
How much does it cost to replace an old switchboard with a new one?
The price of replacing the electrical panel is somewhere between DKK 9,000-18,000. What it will cost in your case depends on several different factors. Contact our electrician Copenhagen for a fixed price!
Construction power at our electrician Copenhagen
We can also be helpful with new electricity and building electricity. Ie. we set up our construction switchboard which you are welcome to rent throughout the construction process.
What does building electricity cost and renting a building switchboard?
Establishment of construction power costs from. DKK 5,000 and renting a building switchboard costs somewhere between DKK 100 and DKK 350 / per day, depending on how many amps and whether there is room for an electricity meter.
Industry electrician Copenhagen
If you are responsible for an industry, there is a lot of security in having a permanently authorized electrician Copenhagen attached if you live in Copenhagen. 24-hour emergency electrician and electrician Copenhagen is also a must, so you can call when problems arise and get help immediately!
What does an industry electrician cost?
If you create a service agreement with us, then the price will be lower than the normal electrician hourly rate of DKK 640 excluding VAT. Contact us for a good offer on industrial electrician and electrician Copenhagen.
Installation of additional socket
We install extra sockets both outdoors and indoors throughout Copenhagen. New habits create a greater need for sockets, we understand that. Contact and to order an additional outlet or advice.
How much does it cost to install an extra socket?
You can have a standard extra socket priced from DKK 1,800 installed by our authorized electrician and electrician Copenhagen.
Emergency 24-hour emergency electrician Copenhagen
Emergency electrician Copenhagen with round-the-clock duty where we troubleshoot electrical installations urgently by e.g. power failure or other problems such as repairing a cable after the cable has been overburdened. There are many reasons why you need a 24-hour electrician Copenhagen, no matter why call us og we will help you within an hour.
What does an emergency 24-hour electrician cost?
Price for emergency response varies whether they are in the daytime or evening hours, we have prices from DKK 2,800 per. emergency response in Copenhagen. In quiet periods we can price match and be the cheapest call for deals.
Faults and defects after an electrical inspection. The work was thorough and efficient. All in all, a really good service. The skilled electrician had to make some repairs after an electrical inspection. He showed up on time, was good at explaining and organizing the work. The task turned out to be to a lesser extent than expected in terms of time and material and received a discount of DKK 3,000 from the original offer.
Perform electrical installations yourself or hire a local electrician Copenhagen?
Whether your home's electrical system is outdated or has unauthorized electrical installations, violations of electrical regulations will undoubtedly leave your home and your family exposed to the risk of electric shock and fire. Here are 3 violations of Danish law, which is a common incident of do-it-yourself people, if you are considering making one of the following as we describe here, or are in one of the mentioned situations, contact our electrician Copenhagen to ensure that none of them endanger your home or your family.
Incorrect ground connections
Grounding is the most important safety feature in any electrical system. The electrician who has installed your electrical system must have a ground connection. You can not just install lights, switches and sockets and hope that ground connections are just there. There are two main forms of a soil that we create: Primary (attached to copper water pipes) and secondary (the earth rod outside your meter). However, that is not the end of it! From these two points, ALL the electricity in your home should be connected to these earth sources. This is where do-it-yourselfers often go wrong in the process and are not equipped to test for a ground source at every electrical device they work on.
Illegal splices
A splice is a connection between two or more wires and is often one of the most common offenses we see with our electrician Copenhagen. The splice must be made correctly and contain a metal junction box with a metal cover. You can not make an open splice everywhere, including in the open air, behind walls or on ceilings. A splice must also be quality assured by an authorized electrician. It is a legal requirement.
The wrong circuit breaker
Out electrician Copenhagen does not recommend do-it-yourselfers to carry out a replacement switch or socket. No matter what, our electrician and authorized electrician Copenhagen still sees it a lot, and not many get it done correctly. There are two main components to understand: # 1 You can not mix and match brand and manufacturers. So if you are brave enough to do this on your own, be sure to get the same make and model of circuit breakers. # 2 Make sure you buy CE marked products. Quality is an extremely important factor both when it comes to electrical safety and durability.
So what can I do myself of electrical installation?
Replace a defective fuse
Connect refrigerator or freezer
Reset a tripped circuit breaker
Switch on the HPFI relay if they are switched off
Replacement of bulbs and lamp holders
Replacement of existing sockets and sockets in existing installations
If you need help with an electrical installation, contact our electrician Copenhagen today and we will help you! We can also help urgently, contact our 24-hourelectrician Copenhagen by phone if it is urgent.
Hanging 4 lamps I should have put up four ceiling lamps and it was done so efficiently and well. I was involved in terms of where I wanted them. Really friendly, good and fast electrician!
HPFI-relæ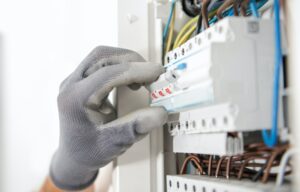 The offer is only valid in Copenhagen. It is assumed that there is already an old relay and that it is straightforward. It is assumed that the existing switchboard installation is legal, so we can replace legally.
Product SKU: 5
Product Brand: Schneider
Product Currency: kr
Product Price: 1.300
Product In-Stock: InStock